3D Vega Crystal - 50 x 80 x 50mm - can be Portrait or Landscape, our most popular shape. Create your own personal piece of history by having any of your photographs laser engraved inside Vega Crystal.
Add your own photo and free message (Optional)
Difference between 2D and 3D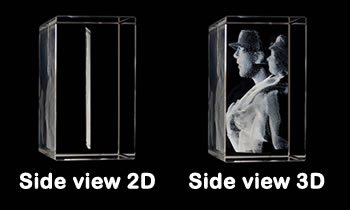 This shows the side view of the crystal and the effect the 3D conversion has over the standard 2D.
The effect when viewed from the front (the normal viewing angle) is the very realistic 3D experience of depth of the image which you cannot get from the original 2D photo.
3D Vega Photo Crystal Landscape
(80 x 50 x 50mm)
Original Price

£39.99

£35.00
---
Available Options
Please select the correct number of people for your 3D Conversion, otherwise there may be a delay in your order. Thank you
Upload your *photo to be engraved here.

*A good quality image (high resolution) is required for best results
Image
Name
Upload is empty.