Portrait or landscape depending on image
Add your own photo and a free message (Optional) . Create your own piece of family history by having family members permanently engraved in solid crystal.
Your image will never fade or diminish which is perserved for generations. Superb gift for anybody.
Supplied in black lined gift box
Crystal size: 80 x 60 x 40mm
Difference between 2D and 3D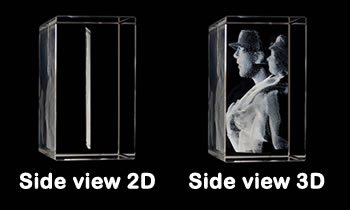 This shows the side view of the crystal and the effect the 3D conversion has over the standard 2D.
The effect when viewed from the front (the normal viewing angle) is the very realistic 3D experience of depth of the image which you cannot get from the original 2D photo.
3D Izara Engraved Photo Crystal
(80 x 60 x 40mm)
Original Price

£39.00

£35.00
5 Awesome

100%

4 Great

0%

3 Average

0%

2 Bad

0%

1 Poor

0%
100% of customers recommend this product
Reviews For 3D Izara Engraved Photo Crystal (80 x 60 x 40mm)