Our new bigger sized 3D Iceberg Diamond Personalised Crystal, allows you to personalised any photo into a memorable keepsake gift, by having your photograph digitally laser engraved into a solid block of quality clear crystal. Bring your memories to life with this extra special 3D Iceberg.
This extra special piece has a neat bevelled edge which adds extra beauty to this wonderful Iceberg shape.
Make that moment last forever.
Each item is supplied in a free satin lined gift box. Truly a gift to treasure for Life.... "
Crystal size: 140mm x 100mm x 60mm
Difference between 2D and 3D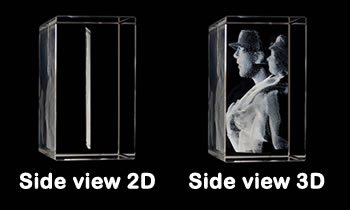 This shows the side view of the crystal and the effect the 3D conversion has over the standard 2D.
The effect when viewed from the front (the normal viewing angle) is the very realistic 3D experience of depth of the image which you cannot get from the original 2D photo.
3D Iceberg Diamond Photo Crystal
(140 x 100 x 60)
Original Price

£77.00

£70.00
---
Customisation Options
Upload your *photo to be engraved here.
*A good quality image (high resolution) is required for best results
Large images may take a while to upload depending upon the speed of your connection
Problems uploading an image?
If you have a problem uploading an image, then checkout without an image and then send it via email quoting your unique order ID (from your order confirmation email). The simplest way is just to click reply to the order confirmation email and attach the image.
Please select the correct number of people for your 3D Conversion, otherwise there may be a delay in your order. Thank you
5 Awesome

100%

4 Great

0%

3 Average

0%

2 Bad

0%

1 Poor

0%
100% of customers recommend this product
Reviews For 3D Iceberg Diamond Photo Crystal (140 x 100 x 60)