Crystal size 80mm x 80mm x 40mm
This unique crystal heart is a classic shape that never goes out of fashion.
An excellent gift to show your loved ones you care how much they mean to you
Your masterpiece is beautifully presented in a satin lined gift box
Difference between 2D and 3D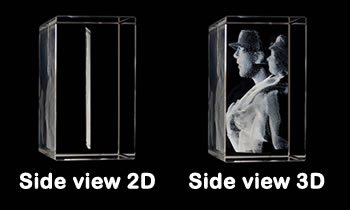 This shows the side view of the crystal and the effect the 3D conversion has over the standard 2D.
The effect when viewed from the front (the normal viewing angle) is the very realistic 3D experience of depth of the image which you cannot get from the original 2D photo.
3D Heart on side Crystal Image (80 x 80 x 40mm)
Original Price

£49.00

£42.00