Our special 2D Super Wide Crystal Sitara (130 x 80 x 60mm) adds more depth to your images submitted to us for 2D. Can be Portrait or Landscape and is ideal for images that require more width to fit up to 8 people... Where a panoramic view is required to fit in all your loved ones on one crystal. Especially for animals such as Horses, Dogs where you can also keep the background if you wish, objects and buildings for no extra charge. You name it, we can engrave it!
Difference between 2D and 3D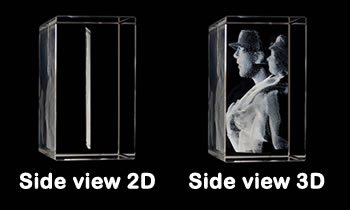 This shows the side view of the crystal and the effect the 3D conversion has over the standard 2D.
The effect when viewed from the front (the normal viewing angle) is the very realistic 3D experience of depth of the image which you cannot get from the original 2D photo.
2D Panoramic Extra Wide Large Photo Crystal Sitara
---
Available Options
Please select the correct number of people for your 3D Conversion, otherwise there may be a delay in your order. Thank you
Upload your *photo to be engraved here.

*A good quality image (high resolution) is required for best results
Image
Name
Upload is empty.